Why wait for someone to treat you with flowers, when you could treat yourself? Shifting Blooms Bouquet Subscriptions are the perfect gift for yourself or someone special all summer long. Each bouquet contains the best and freshest flowers available from the garden. Each month from June to September you'll receive a beautiful bouquet filled with gorgeous seasonal flowers.
That's right! CSA members get my best blooms. They also get first dibs & a 10% discount on my Bouquet Nights. I'm only planning four bouquet nights this year with 20 spots max, so spaces will be limited.
CSA members also get to pre-order fall pumpkin centrepieces first. I'm growing plenty of white, peach, and green pumpkins this year, so fingers crossed Mother Nature co-operates and I'll have some beautiful centrepieces for your Thanksgiving table.
How Does it Work?
This year's Bouquet subscription will be offered in Saskatoon, SK. You'll receive 4 bouquets–one in June, July, August, and September. Members will have a choice of 2 dates each month when they receive their bouquet.
Bouquets are not refundable, but are transferable to another person in either city. In the event that there is a crop failure in June, you'll get a second bouquet in either August or September.
Pick-ups are usually on a weekday evening at 7PM, and occasionally on Sunday afternoons. You are welcome to pick up your subscription from the acreage near Clavet within one day if you are unable to make the pick-up time. You can pick up your bouquet anytime during the month at the acreage with 24 hours notice.
All pick-ups are in the parking lot of the shopping centre at the Meadows/Rosewood across from Costco. I try to park in the same spot every time, near the Tim Hortons and Scotia Bank.
What types of Flowers Can I expect?
While I can't guarantee down to the flower what will be in your bouquet, I can give you an idea of what will likely be featured each month. During the monthly emails to pick your date, I'll let you know exactly what's in bloom!
June
Think fragrant Peonies and stunning Ranunculus, with sweet-scented Stock, early Snapdragons, and other cool-season favourites. If my Tulip crops are successful, you may find a few of those tucked in your bouquet too!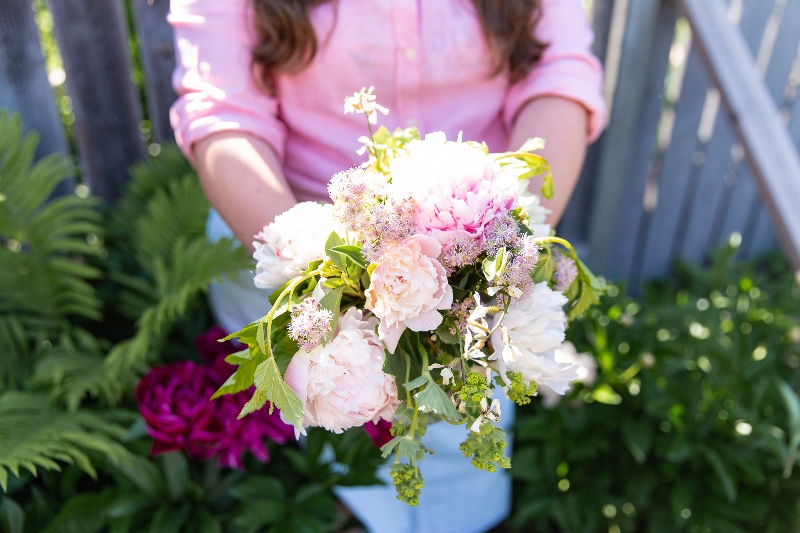 July
Mid-July is when the cutting garden really starts to shine! Lilies will grace us with their presence, as well as a few early Sunflowers in lighter summery shades. You may also see earlier Zinnias, Yarrow, Delphiniums, and Feverfew.
August
Did somebody say, Dahlia? The queen of flowers herself will be in bloom and will be in your bouquet. There might also be darker shades of Sunflowers, dramatic Amaranth, and lemon-scented Basil.
September
As long as Jack Frost stays away, the Dahlias will continue to play. Eucalyptus will finally be ready, as well as Lisianthus. And if you love Roses, you're going to LOVE Lisianthus.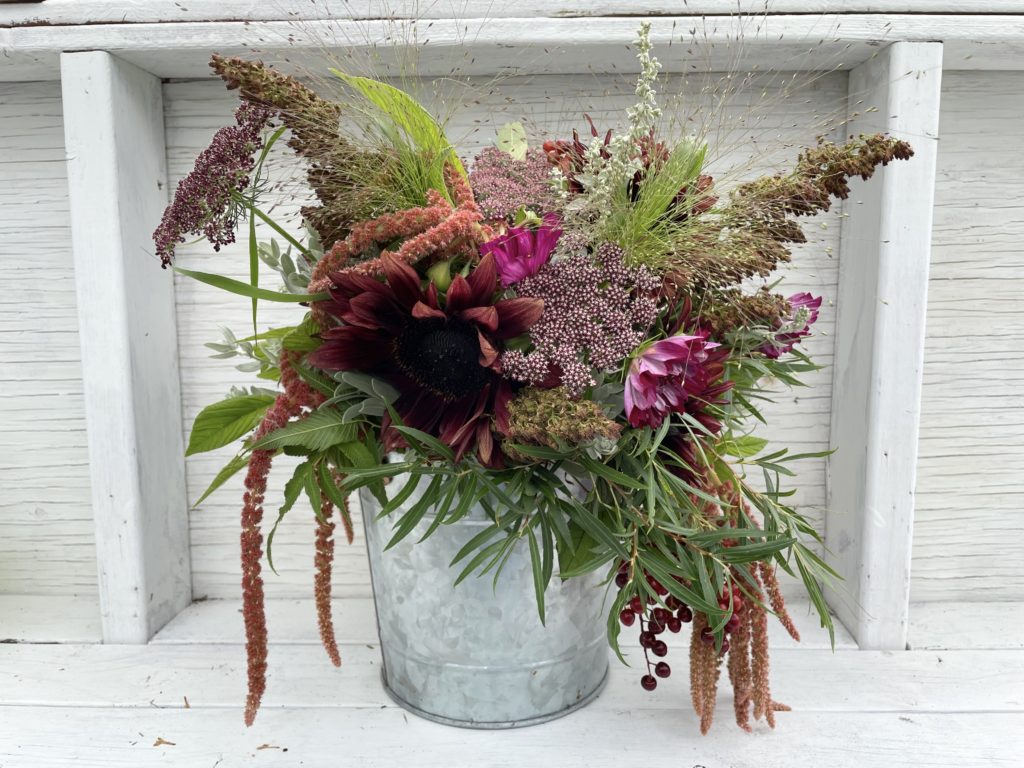 Shifting Blooms is known for making unique bouquets, so don't be surprised if you find some interesting elements in your bouquet that you haven't really seen anywhere else.
So go on, treat yourself or someone you love to a summer filled with flowers. Spots are limited, so don't delay!
Subscriptions are $125. Included in your subscription are 4 premium bouquets, 10% off bouquet nights, and first dibs on both bouquet night spots and pumpkin-sale pre-orders.